Christmas Holidays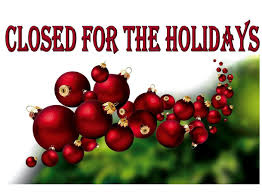 The club will remain closed from Monday 19th December 2016- Sunday January 9th 2017
to allow staff and instructors to spend time with their families and refresh themselves ready for the 2017 year ahead.
Saturday 17th December, there will only be the Little Dragons class on. No Weapons, Leadership or Gradings.

Make up classes available:
3.45pm Friday 2nd, 9th, 16th December 2016. No make up class on Friday 23rd Dec, due to being closed.
Membership Payments between Dec 22nd - 2nd January will continue.
However as our martial arts programs are structured over 48 weeks of the year instead of 52
because of club closure on public holidays, tournaments and Christmas Break.
Payments continue during this time period, however you are not paying for training during this time, simply the 48 weeks training spread across 52 weeks of payments.
There is still make up lessons available.
Please call/email to let us know if your child will be attending a make up lesson 1 day in advance so that we can arrange appropriate number of instructors.
All classes are running as per usual up until the 18th December.

Trading Hours:
Monday 10.30am - 6.30pm
Tuesday 10.30am - 6.30pm
Wednesday 10.30am - 6.30pm
Thursday 10.30am - 6.30pm
Friday 10.30am - 4.30pm.

Once again, please note that there is no Make up class on Friday 23rd December 2016.

If you have any questions please email cmaa.manager@gmail.com
From Kyoshi and all the staff at CMA We wish YOU a Merry Christmas & a Joyful Prosperous New Year!
Thank you for your continued support, through 2016
Everyone deserves the right to feel safe.